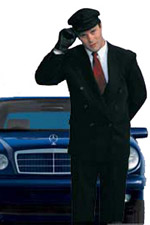 The passion for cars has become over time my business and in 2004 I founded the "Sorrento Limousine, Limousine company based in Sorrento.
My priority has always been customer satisfaction, ensuring accuracy, reliability, discretion and competitive prices.
My commitment is to continuously improve the service offered, ranging from airport transfers to travel for business, weddings and sightseeing tours, meeting even the most demanding guest.
If today the "Sorrento Limousine is able to offer a quality service is why I use, as well as a wide range of vehicles, a staff of professional drivers and on time. That's why with us your journey is always a pleasure.
Thanks to its partnerships with the major national Tour Operators, Sorrento Limousine is able to offer the best conditions on the market for trips and holidays either to single customers or groups, combined as usual with very high quality standards.
We can guide our customers along historical and naturalistic itineraries, famous all over the world, but even to the wonderful cities of art which surround us, to enjoy and appreciate unique and glamorous works of art.
Our collaborators are not just drivers, but they have the knowledge to support you in the major Italian localities, Rome in particolar.
Excursions and guided tours of one day or more in Amalfi Coast, Positano, Park of Cilento, Paestum, Pompeii, Herculaneum, Oplonti, Naples, Vesuvius, Caserta, Cassino and Rome.
Transfer to and from Naples, Pompeii, Herculaneum, Oplonti, Caserta, Positano, Amalfi, Ravello, Paestum, Vesuvius and any other destination is required.